This post is part of a 31 day series – "31 days to decorate your home on a budget." You can read all the posts in this series here.

And if you don't want to miss a post you can subscribe by email, join me on facebook, or follow this blog in your reader. Thanks for reading along!
No matter if you own or rent or live in a house or an apartment, you will want your "home" to reflect you. There is no better way to do that than with family photos.
I have these picture ledges in my hallway right now and they are filled with family photos
Mostly wedding photos and then some extended family photos.
I also have pictures in a few frames displayed in tables (some of them are covered up by my free fall printable art
)
Here are some tips on displaying family photos:
Black and white pictures or color? Choose what you like best and do all the photos the same.

Have a mat in your frame or not? – most should be the same, but maybe one or two pictures could be different.

Frames – all matching or not? Depending on the look you want, you might want all identical frames, or just all frames in the same color but different sizes/styles, or an eclectic mix of lots of styles and colors.

On a ledge or hung on the wall? Again your choice and you might be able to combine the two.
Here are some examples of different ways to display photos:
Christa from Brown Sugar Toast created this wall of pictures (and you will have to read her post, she bought her frames brand-new for 50¢ each!
)
She has all color pictures, in identical frames, and they are in a perfect grid.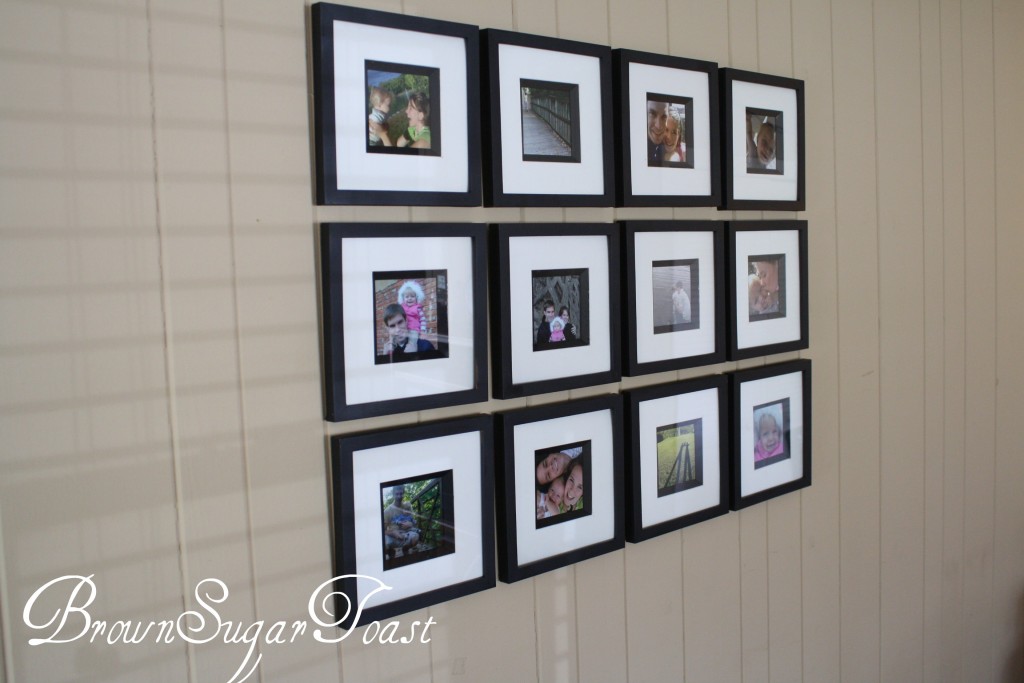 Love this gallery wall in all white from Love of Family & Home
This example from Young House Love is balanced and matching but not in a grid.
I love Laine's gallery wall. Mixing in an initial and various size frames adds interest.
But you can also do a series of 3 or more pictures like this example from 320 Sycamore
I love these huge portrait prints that Allison over at House of Hepworths printed!
And here are some more unique ways to display pictures!
Pictures displayed in an old window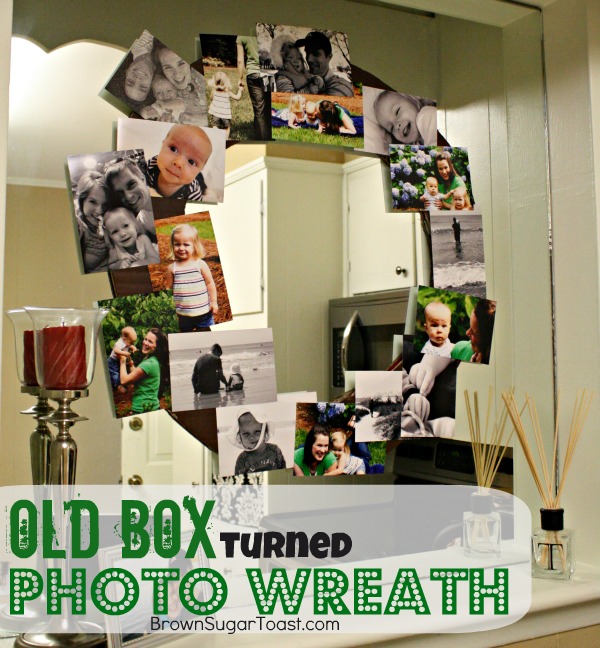 And here's my tips on how and where to print photos! 🙂

~Most places I read, said go BIG! 🙂 So try to get pictures printed in 8×10's or larger.

~Over on my coupon blog, Centsible Savings, I share a number of photo deals as they pop up. (And with Christmas just around the corner, photo gifts and deals will be everywhere!) Walgreens has specials all throughout the year (usually around holidays) for FREE 8×10 prints or 8×10 collage prints – I get one printed each time! 😉

~Also the cheapest local place I have found to get pictures printed is the discount clubs, like Sam's and Costco. If you know someone who has a membership or have one yourself, check it out. I personally don't have a membership to our local Sam's, but my mother-in-law does. I submit and pay for the pictures online and just ask her to pick them up when she goes the next time. 🙂 A 5×7 is $0.38, 8×10 is $1.46, 11×14 is $2.87, 12×16 is $2.96 and so on! Wal-mart is your next cheapest place – an 8×10 is $2.84, but I think an 8×10 is the largest they can do.
What is your favorite way to display photos?