This post is part of a 31 day series – "31 days to decorate your home on a budget."  You can read all the posts in this series here.

And if you don't want to miss a post you can subscribe by email, join me on facebook, or follow this blog in your reader.  Thanks for reading along!
I love paint!  Spray paint, stain, craft paint, latex paint – it is all magic in a can!
A can of paint can literally transform a room. 
And at $15-30 a can it can be one of the biggest impacts for the least amount of money you can do.
7 years ago, we bought our first home – a government repossessed home in good condition, but in need of a little TLC.  There were quite a few repairs and upgrades that we wanted to do as we had time and money.  This was our kitchen in the early years of us living there.
About 3 years ago, we got ceramic tile installed, upgraded our kitchen table with a Craigslist find, installed a new light fixture (that I bought NEW before I knew about buying used light fixtures and spraying painting them – oh the money we could have saved.
)  I also installed a chair rail and painted a sage green color on the bottom half of the wall.
We lived with it for a while and although I liked the green color, it was hard to decorate around, the light fixture didn't go well with it,  and I was craving something more neutral.
The chair rail was already installed, so one afternoon on a whim, I whipped out the paint and rollers and used some brown paint that we already had to paint the bottom part of the walls again. 
  Top color is Behr Class Taupe and the darker brown color is Behr Toffee Crunch (but I had them darken it some more like the next color down on the paint chip.)
Ahhh…. so much better!
Of course the paint job then led to a complete makeover in décor, but everything except the curtains were things I already had.  Trivets used as wall hangings, a homemade Coffee filter wreath, some faux greenery and shelf gotten from my MIL's yard sale pile, and a sign moved from above the curtains to above the door.
So don't be afraid of paint!  It can always be painted over (and over!) if you change your mind and it can make a huge difference.
Here's some more inspiration from blog land:
My friend Christa, over at Brown Sugar Toast, painted her guest/soon-to-be baby boy's room in this gorgeous dark blue color!   I love how the white and yellow pop against those walls.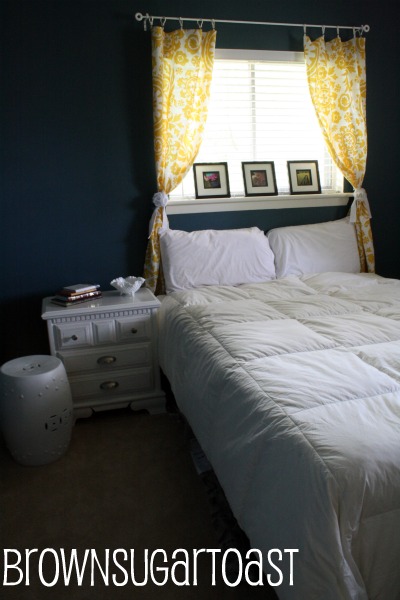 Look what John and Sherry did over at Young House Love (although theirs was a little more complicated because of painting over paneling so they had to do several coats of primer first.)
Doesn't even look like the same room!
And Allison, over at House of Hepworths, might win the award for most needed paint job of the year in her new house.
From "Barney purple + gold" before –
To gray and white with a pop of orange "after"
  So pretty!
_______________________
And here's a tip for you – write the name and room on your paint cans for your future reference.
And then keep a visual paint swatch of your house's paint colors by dipping a paint stick in your paint, then labeling with paint name and color numbers.
Have you transformed any rooms with a paint job?  What is your favorite paint color in your house?
{cj}