Today let's take a break from all the decorating (Mantels, Trees, Wreaths) and talk about food!
But not just any food… tasty, yummy, gooey, Christmas treats!
I'll share some of our traditional Christmas treats and some new ones I plan to incorporate.
Here are some treats I have made in past years to giveaway as gifts:
Oreo Truffles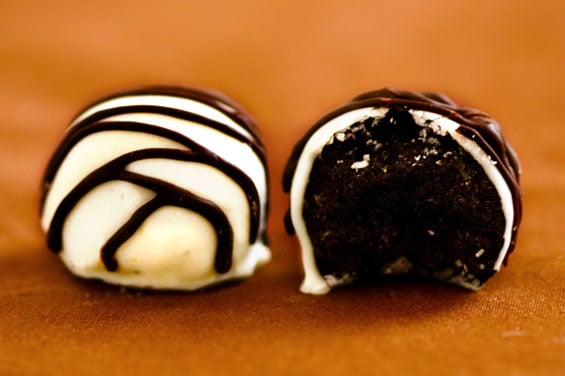 so easy and absolutely delicious!! recipe here
English Toffee
This is so buttery and yummy! You will need a candy thermometer and it can be tricky but worth it in the end. recipe here
Peppermint Bark
Very easy and tastes just like Christmas. recipe here
and of course we can't forget…
Fudge
Whatever combination you choose, don't forget the fudge! Chocolate with nuts recipe here.
Family treats:
I am not sure what your tradition with Christmas food entails, but we typically don't have a formal meal (like a turkey or ham with all the fixings). We usually all just bring some yummy snacks and finger foods and call it a meal.
My husband's favorite – Sausage balls!
I found this recipe the other day in a cookbook (on Pinterest, of course, who uses cookbooks anymore when Pinterest is so pretty with pictures
) We thought the twist of adding cream cheese made them even better!
Puppy Chow (Chocolate Chex Mix, Trash, whatever your area of the country calls it 😉
An easy treat, but I dare you to eat just ONE handful recipe here
Coca-Cola Cake
Have you ever had this? I never had until I married into my husband's family (tip: when you are looking for a husband, find one whose mom is a great baker. I grew up with a mom who was a good cook and now have a MIL that is a good cook – my cooking definitely has benefited from both!)
If you haven't had Coca-Cola cake (or Coke cake, as we call it, cause everything is "Coke" here in the South), stop right now and make it. But only if your husband is going to be home in 2 hours, because if not you might eat the whole pan. Gooey, chocolate goodness – THE best chocolate cake I have ever tasted. 🙂 Christmas is not complete in our house unless there is Coke cake.
Strawberry Pretzel Salad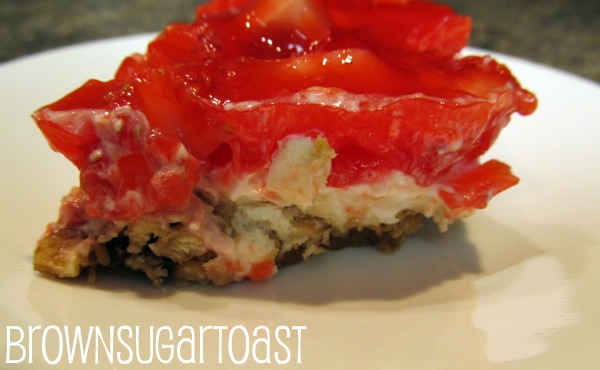 MMMM…. another favorite! And it has to be some-what good for you – it has strawberries in it.
recipe here
Omelets
My husband's family have a tradition of waking up on Christmas morning, opening presents, then eating ham and cheese omelets for breakfast. Yummy!
Homemade Cinnamon Rolls
I am planning on incorporating a new tradition in our family this year of baking homemade cinnamon rolls on Christmas morning (or monkey bread or something like that if I can't perfect a homemade cinnamon roll.) Anyone have any tips on homemade cinnamon rolls for me?
And I am sure I am forgetting some . . .and more will get added to the favorites list as years go by.
What are some of your favorite Christmas treats?
Any family traditions behind them?