Now that your mantel is all merry and your tree is trimmed, you need some decoration for your doors. Let's talk about Wonderful Wreaths! (And remember you can decorate the outside AND inside of doors and over mirrors – places for wreaths are endless!)
Of course when you think of a Christmas wreath, you probably think of the traditional evergreen/greenery Christmas wreath (whether artificial or real) like these…
An evergreen wreath – can be used just like this
Or adorned naturally with some pinecones, berries and a bright red ribbon – traditional and always a classic
Or adorned with all kinds of fun things like candy canes like this one from Crafty Sisters
Wreaths don't have to be round either. This evergreen/moss wreath from Blessed Beyond Measure is shaped as a rectangle using a thrift store frame.
And I love the idea of a monogram as a wreath. Dittle Dattle made this one from cuttings from a tree in her yard (I wish I had a magnolia tree and an evergreen/spruce/fir tree in my yard just for crafting!)
Remember wreaths go over mirrors too! After the holidays, my mirrors always looks so naked with no wreaths hanging over them
Love this mantel display by It's the little things that make a house a home
Just plain boxwood wreaths are pretty too! Especially when hung in a series of 2 or 3.
And I LOVE this idea of making a snowmen from wreaths from Sew Many Ways! Wouldn't your kids love coming home to this on their front door (made with 3 wreaths, some zip ties, scarf, hat and twigs!) A small version would be cute too.
Another natural-looking option is a red berries wreath
Then you can also use the classic grapevine wreath and decorate it for Christmas.
Adorned with some pinecones and a bow
Then there is the fun and unusual wreaths!! The ones you see and say "They made a wreath out of WHAT?"
I saw this Striped Straw Wreath on the front of the Women's Day magazine 2 weeks ago and thought I could hurry and do it first in blogland but Tatertots and Jello beat me to it. (Anyone know where to find striped straws for cheap?)
This was another one of the first few projects I was introduced to in décor-blogland. Thrifty Décor Chick's ornament wreath (and of course I made my own shortly after!)
These can be done in all colors (and I have even seen them for sale in Target this year – guess they follow décor blogs too!)
Wreath made of gumballs from Mom in the Sky
Wreath made of Christmas cookies (you could do this with the same dough you use to make those Christmas ornaments that you bake until they are hard.)
Wreath made out of cotton balls from Fit2FeelBetter! (perfect to transition into winter too so you don't have a naked mirror
)
Peppermint Candy Wreath from Gynn Wasson Designs
A snowflake wreath (perfect for January too!). I think the Dollar store sells packs of plastic snowflakes that would be perfect for this.
Then there are the burlap/fabric wreaths (and I promise we are just about done!)
This one from Stamping with Melissa is adorable!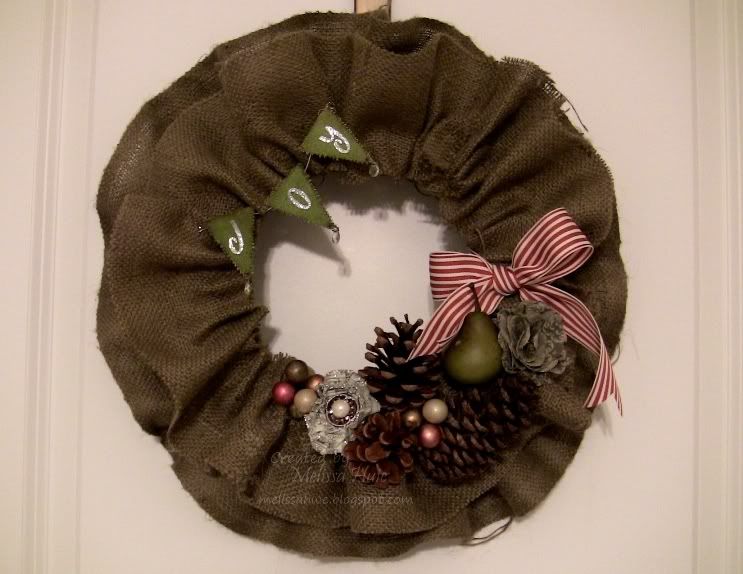 Another cute version from Craftaholics Anonymous
This candy cane stripped wreath that Whipperberry made is made out of fabric scraps.
Another striped wreath made of yarn
And another striped wreath made from burlap by All Things Thrifty
And since I never made my burlap wreath for fall, I might just make this version for Christmas.
Wow, so many possibilities! So little time and doors/mirrors to decorate
Here's a tip: I don't make all 5-6 wreaths that I have in my house all in one year. Cost and time prevent me from doing that. But every year, I try to add something new to my décor – a new wreath or new ornaments, etc. Sometimes I buy things after Christmas on clearance to use to make something the next year. So don't feel like you have you to make 10 of these wreaths this year. Make one and enjoy it! And then maybe add to that next year! 😉
Which wreath was your favorite?
Do you hang wreaths over mirrors and on the inside of doors to decorate?