How to save money/reduce living costs by cutting cable for good and still be able to watch the shows you enjoy, have DVR service, and even watch live TV.
Back in the summer we finally took the plunge to cut cable and I am wishing we had done it WAY sooner. We have lived with it for 6 months now so I can now comment on which device we like best to access all the streaming apps, which streaming tv service we are enjoying, and what we think about not having cable. We had the lowest cable subscription plan offered by our provider (Charter Spectrum) and were still able to save money by paying for a streaming service vs. traditional cable. I'll say that it was quite confusing/overwhelming to figure it all out at the beginning (which device to get, which streaming service was the best) but now it seems so easy so I hope that this post and information will help you if you are wanting to make the same decision.
Going into it my main concerns where I really wanted to still get Hallmark channels, HGTV, (we don't watch sports), and a few other channels that might have older tv shows on it. I also really wanted a live TV option so we could still feel like we were watching tv – sometimes I just want the tv on to be background noise or I am listening/not watching while I am working and I didn't want it to be just going from one show to another like Netflix. And I really wanted a DVR because with a busy life and a little one I can't always watch a movie or show when it is on. I was able to get all of those things, plus channels we didn't even have before, and more for way less than we were paying for cable! I'll share exactly what we were paying then and what we are paying now at the end of the post.
(This post may contain affiliate links to services and products I've linked below.)
Why cut cable:
1. To cut costs/save money.
I am sure that is probably the main reason anyone would be considering cutting cable and that was a big factor for us. We also were only watching 5-10 of the channels that we got anyways so it seemed like such a waste.
2. Flexibility to move the tv wherever we wanted it and also be able to choose which service/channels we wanted.
Even with satellite and all the different cable options out there we had to still be plugged into the cable jack in our house and tied down to 1 cable company that is allowed in our area. Now that we just use a device that plugs into the back of the tv and into a regular outlet we can move the tv wherever we wish in the room.
How to cut cable and still be able to watch tv shows you want – even live tv!
1. First of all, you have to have high-speed internet. And then you will want a streaming device or you'll need a smart tv.
We have an older smart tv but still prefer the much more user-friendly option of using a streaming device. I thought of it this way – using our smart tv with apps is sort of like accessing Facebook or Instagram through your phone's internet app. It works but its quite clunky and hard to navigate. Using a streaming device is like using the actual Facebook or Instagram app – so much easier and user-friendly.
Here are the common streaming devices:
You will need a streaming device for each tv but it's just a one time purchase and you are done. No subscription/monthly fees required. We have 2 TVs and I bought 2 different devices just so we could try them both out. Both our Roku and Firestick work great and I don't dislike either one. I think we get a better picture with the Firestick and I find it a bit easier to navigate but we do have it on our newer tv and use it much more than the Roku.
2. Then you want to decide on a TV streaming service or several streaming services to meet your needs.
Remember the goal is to cut costs so try to find the most reasonably priced plan that has your must-haves. There are TONS of streaming services and apps out there, but I'll share the most popular, the ones we use, and then some that are completely free.
Most popular streaming services
Youtube TV – $50/month with unlimited DVR, includes 70+ networks including local sports and news along with channels such as Discovery, HGTV, Food Network, TLC, Animal Planet and more.
Hulu + Live TV – $54.99/month with 50 hours of DVR storage, 60+ channels + on-demand library along with channels such as A&E, Bravo, Food Network, HGTV, Disney, Discovery, Bravo and more.
Sling TV – $30 or $45/month plans with 10 hours of DVR service with channels such as ESPN, Disney, AMC, Fox News, Discovery, TLC, NFL Network, CNN, MSNBC and more. (Channels below included in the $45 plan)
FuboTV– $59.99/month plans with free DVR and LIVE tv featuring lots of sports and news channels plus all 3 Hallmark channels and more.
AT&T TV Now – $65 month with 20 free hours of DVR and channels such as Bravo, Cartoon Network, CNN, ESPN, Fox Sports, Hallmark and more.
AT&T Watch TV – $15/month (or free some AT&T wireless customers) with no DVR includes 30+ channels such as Animal Planet, CNN, Hallmark Channel, History, Lifetime, HGTV and more.
Disney+ – $7/month or $70/annually this just launched and many people love it cause you can stream I think all of the Disney movies including ones that were in the vault plus many more movies. Disney+ can be bundled with Hulu's basic plan and ESPN+ for $12.99 per month. (A free year of Disney+ may be included for Verizon wireless customers.)
My favorite streaming services that we use:
Philo – $20/month (we have the $16/month plan but that has been discontinued for new subscribers), unlimited DVR with recordings stored up to 30 days, and up to 60 LIVE channels including A&E, AMC, Animal Planet, Cooking Channel, Discovery Channel, DIY Network, Food Network, Game Show Network, all 3 Hallmark channels, HGTV, History, Lifetime, Lifetime Movies, Motortrend, Nickelodeon, Nick Jr., TLC, TV Land, UPtv and more! All of those channels have LIVE streaming, plus you can save anything you want including all upcoming episodes of a TV series to DVR plus some movies offered as well. With our previous cable service, we didn't even get all 3 Hallmark channels, Nickelodeon, or DIY Network and I had always wanted the DIY channel and the 3rd Hallmark channel. I love that all of this is LIVE TV but I can also record and watch later. My DVR is still currently full of Hallmark Christmas movies I didn't get to watch live. Use this link and my referral code (RCP6QSW6) to get $5 off your first month.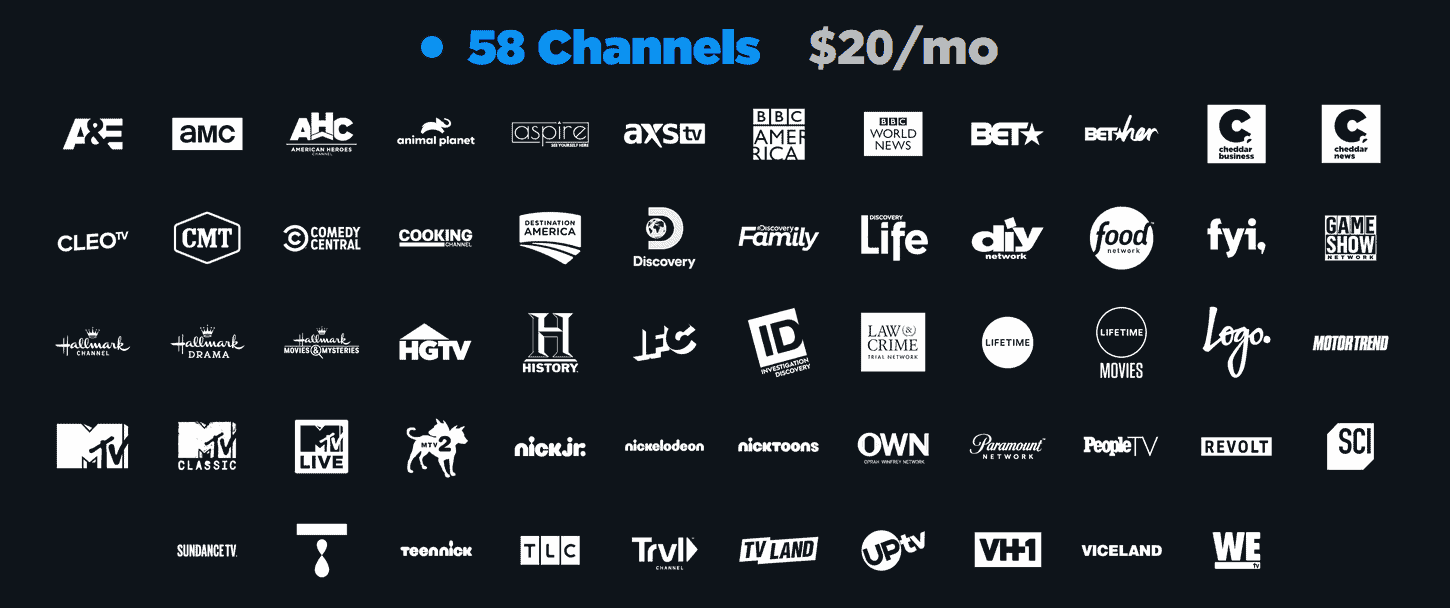 Hulu – we get the very basic $5.99/month plan free as a Sprint wireless customer. Not my most favorite app but there are a few movies we have watched and it includes a lot of kids shows – Curious George and Doc McStuffins are my little girl's favorite shows on there.
Frndly TV – we are not currently using this service but if we really wanted to cut costs I would go with this service. It has all 3 Hallmark channels Live plus On Demand plus a few other channels all for $5.99 a month or you can do the plan that includes DVR service for $7.99 a month. With the price so low for this it would be the perfect add-on to another streaming service that maybe didn't have Hallmark channels but had everything else you wanted.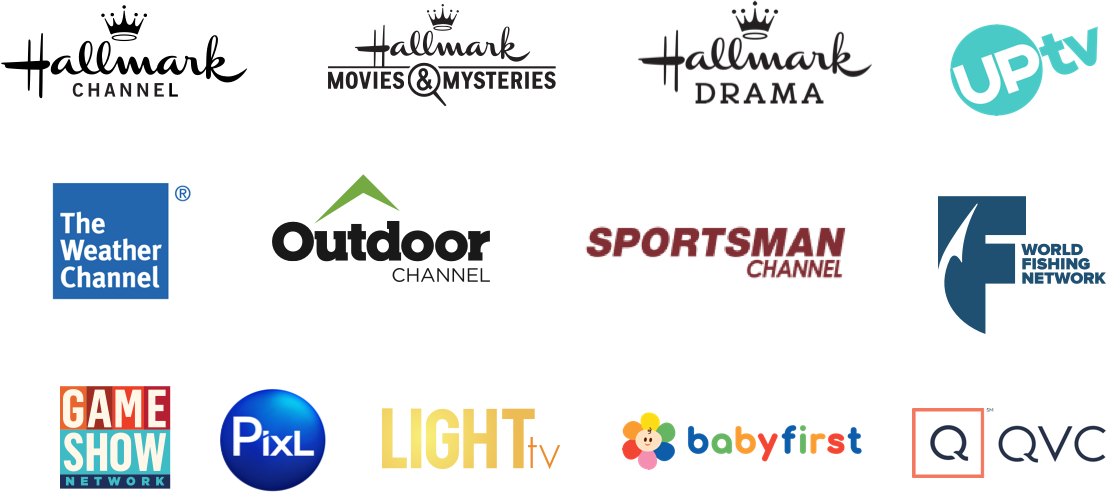 I also have some of the free apps mentioned below plus Pandora.
Completely free streaming services
You could potentially stream tv/watch movies completely for free (after you buy the streaming device) by using one or all of these apps: (these are all free apps that you download onto your streaming device or smart tv)
Pluto TV – watch the Today show, live streams for CBSN and more, plus lots of movies and tv shows
The Roku Channel – live tv- ABC News Live, People TV, Weather Nation, TMZ and more plus various tv shows and movies.
Amazon Prime video (if you already pay for Amazon prime certain movies/tv-shows are included with your membership)
Sony Crackle – various tv shows and movies all for free
Tubi – not live TV but many movies and shows from channels as A&E, Lifetime and more
Haystack TV – local and world news
IMDb TV – lots of free family-friendly movies – probably my favorite out of all the free apps
plus lots of individual channels have free apps – like PBS kids,
Pandora – I love to stream music and play it from our tv and a basic Pandora subscription is free to use.
Individual channel apps:
If you watch very little tv or one of the above streaming services would work except it is lacking one certain channel, see if that one channel has its own paid app.
Hallmark Movies Now app – $5.99/month – not live but you can watch lots of movies and Hallmark series
CBS All Access – $5.99 a month and watch current tv shows the next day, news, NFL and more.
ESPN+ – has live sports
many other channels have their own apps or subscription services.
You can also buy a low-cost digital antenna that will allow you get local channels live on your tv. You won't be able to DVR them without a separate DVR device but can watch them live. You can visit antennaweb.org and input your zip code to see what antenna is best for your location along with what channels you should be able to get. The most popular indoor antenna is the Moho Leaf antenna but I don't have any experience with it as we wouldn't get many local channels in the rural area we are in so we haven't gotten a digital antenna.
Final thoughts on cutting cable:
1. So what did we save by cutting cable? This will be different for everyone depending on what kind of package you have and what provider you have it with. We can only get Charter Spectrum in our area and once our initial new customer discount ran out after 2 years were paying a total of $77.97 for the very base package of cable, 2 receivers, DVR service, and additional fees each month. We are now paying $16/mo for Philo saving us over $60 a month! We already had internet service before and changed nothing with that – cost and speed are the same. We did have to buy a Roku and Firestick and did opt for the upgraded ones paying a bit more – but I did get the Firestick on Amazon prime day for $24.99 (half off the regular $49.99 price.)
2. Things to consider when wanting to cut cable – sit down and make a list of the channels everyone in your family watches the most or wants to watch – then you have a guide of what to look for in a streaming service. If you can find 75-90% of the channels in 1 streaming service I would call it a win. If sports is a must but it is seasonal sport than consider only signing up for ESPN+ or another sports streaming service just for those few months and using another streaming service for all your other viewing needs. I am pretty sure without reading the fine print of all of them that all of these streaming services have no contracts and you can cancel/resign up at any time (although costs may go up over time if they change rates and you lose your locked-in rate.)
2. All of the above streaming services have free trials of 2-14 days so you can sign up for one or as many as you want to try them out before you decide to pay to subscribe.
3. If you want to cut cable but can't convince everyone in your family or having a hard time committing, I would suggest purchasing a streaming device of your choice and then signing up for a free trial of the streaming service you want to use. Then unplug your cable box and try using just the streaming service for the full trial period. That will allow you to try it out before you cancel cable and incur any fees to turn it back on if you aren't happy.
4. Can't find the channel you really want? Google it or ask around at work/neighbors what they have and how they watch certain shows or channels or their favorite shows they watch on certain streaming services. I am sure there are many more options and new ones popping up all the time that I haven't covered in this post.
5. One other bonus is the Firestick is just a little bigger than the size of a stick drive that plugs into the back of the tv and has a regular cord to plug into the wall plus a small remote. So when we travel we can easily take it with us if we want – allowing us to access all of our channels, streaming services, shows, and more!