I have been feeling pretty uninspired recently .  Wait…no, not really uninspired, maybe a better word would be unMOTIVATED!  Cause I am plenty inspired – all it takes is opening my blog reader and reading a few blog posts or logging on Pinterest and opening a few hundred tabs of things I love.   (By the way, need some inspiration – follow me on Pinterest here so you can see what I am pinning. So, no, the problem is not lack of inspiration.  It is totally a motivation issue, I think.  Anyone relate???
So I thought I would share some things that are inspiring me lately.  And in sharing them publicly with all my readers and the rest of the internet world,  maybe motivate me to start actually DOING THEM!
I have so many rooms and projects that I want and need to be working on.
Like my kitchen – I was hoping to have painted my cabinets already.  Now I am hoping I can do that this fall before holiday craziness sets in.  I am LOVING all these bright white and cheerful kitchens.   And I am also noticing that they usually are very neutral, but with pops of color!
This kitchen is from Design OCD written by Jae who I actually met last Saturday on my blogging lunch!  I am having fun going back through her blog.  Her kitchen was also recently photographed for a Better Homes and Garden's magazine feature!  I also love the "YUM"  – different then the normal "EAT" that you see.
But I do love the "EAT" letters too.  In fact if you follow me on Instagram (ChristinaFrugalHomemaker) you know I was at Hobby Lobby recently trying to decide which style of letters to pick out.  Yep, they are in the corner in the living room still in the bag waiting on some inspiration motivation to do something with them.
Can someone just cut and paste this kitchen from BHG into my house? Gorgeous!  Again I am noticing word art, pops of color among a base of white, cream and wood neutrals, some vintage finds scattered on the counters like the old metal locker basket and the teal vintage scale on the windowsill.
And chalkboards!  Do you know that I do not have a single chalkboard in my house yet??  I have pinned who knows how many pictures of cute DIY versions of chalkboards on Pinterest and yet, I still don't have one in my house.
My friend Laine just shared how she made this giant hanging chalkboard in her dining room/school room for $8.00.
In fact you can turn any old frame or even mirror into a chalkboard by just painting over the glass with chalkboard paint.  I need to rummage through my frame stash and see if I have one that will work.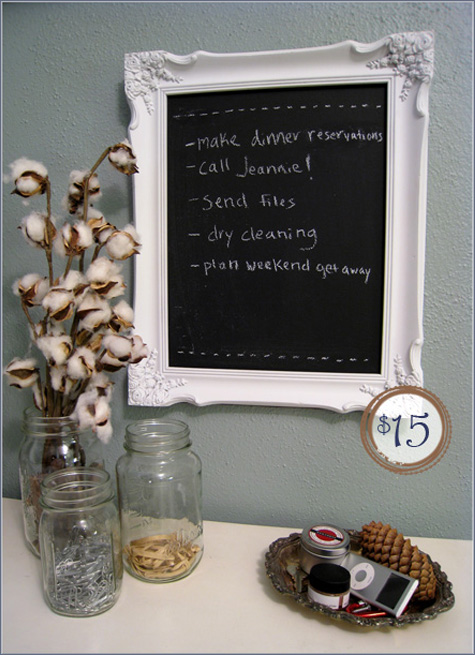 Then I have a set of thrift store lamps that I have painted that I need to show you.  But that requires motivation to clean off the furniture that they are one, stage it, and then take pictures.  Maybe I will find that motivation this week
  But I haven't decided what I am going to do with the shades.
Cover them with a fun fabric or paint treatment in a chevron pattern?
Or maybe cover them in burlap and add some pretty trim or flowers?
And then we move upstairs to the bedrooms.  The master bedroom… I lay in bed at night and dream of the day when my furniture is refinished, the room is decorated, and I finally have a beautiful master bedroom.  Yep, dreaming about it is about as far as I get.
Yes, my $40 dresser, nightstand, and chest of drawers yard sale furniture is still sitting in the garage awaiting a cooler day that will allow me to get to work painting or staining it.
But I am trying to figure out what to do for the bed.  I am really leaning towards doing a DIY upholstered headboard but a little overwhelmed.  Do I use the frame with our current bed or look for another one, what shape should the headboard be, and what color fabric should I do?  And what color should I paint the room?  Way too many decisions so I just stop thinking about it all.
Here's a DIY version done by Jenna Sue that I pinned for inspiration.
And another version with no tufting from Tip Junkie
And I am dying to make some small changes to our living room – really just 3 main things and some pilows.  One of which is inspired by this picture.  She painted this curtains – yes painted them!  Totally inspired – anyone want to come paint them for me since I lack the motivation?
Plus I really need to install a light fixture in the laundry room, and do a project in there so I can show it to you.
AND I just found the piece last week that I have been looking for to start redoing our guest room – will share on Friday in my frugal finds post.    Which means another dresser to repaint, a pretty big DIY project to complete, and re-decorating with some of my yard sale finds that are stashed away!
And my hubby REALLY wants the garage cleaned out which means painting all the furniture in there and getting it into the house, throwing away a bunch of junk, maybe having another yard sale, and finally getting that space organized and functional.
And some little projects that I am inspired but unmotivated to do?
This one is pretty much at the top of my list.  So much prettier than that Dawn soap container sitting on my sink.  The Blissfully Content Life shows you exactly how to make this and it looks like it couldn't take more than 20 minutes.
And then the time of year and weather is making me start having fall fever.  I usually am one to hold onto summer as long as possible because summer is just fun to me.  Longer days, vacation with my hubby, fun outings, lots of picnics, and outdoor activities.  But I am seeing fall (and Christmas stuff too) in stores everywhere, the weather has been in the 80's this week which has felt wonderful, and I bought a few fall pieces of clothes – a denim jacket and a fun colored fall scarf that I can't wait to wear.
I am loving sunflowers this year more than ever.  They seem like the perfect transition from summer to fall.  Still summery but yet they hint at the golden colors of fall on the way.
So there you go – tons of inspiration but a lack of motivation to create these pretty things.  Just being honest today – I think we all face overload or burn out sometimes.  And sometimes it helps to stop, regroup, and then move on!
Now that I am even more inspired by finding and sharing all these pictures, the motivation will show up.  I am excited to have a free Saturday this weekend for the first time in about 8 weeks.  Maybe after I make a quick run to the yard sale I can get busy and have some fun projects to show you soon.
How about you?  Feeling inspired but unmotivated?  What is on your want to-do list in your home?
{cj}
Sometimes I link up to these wonderful parties:
Sarahndipities, Skip to my Lou, Today's Creative Blog, How to Nest for Less, Home Stories A to Z, Apron Thrift Girl, Tools are for women too, Not just a Housewife, A bowl full of lemons, Uncommon Designs Online, Someday Crafts, No Minimalist Here,Somewhat Simple, 36th Avenue, Sew Much Ado, The Style Sisters, The Thrifty Home, Domestically Speaking, House of Hepworths, The Shabby Creek Cottage, Weekend Blogging party at Serenity Now, Home Happy Home, Tatertots and Jello, Funky Junk Interiors, The Girl Creative, Miss Mustard Seed, Chic on a Shoestring Decorating, Remodelaholic, The Lettered Cottage, Before and after party at Thrifty Decor Chick, Pinterest Challenge at Young House Love, Best projects of July at Beneath my Heart