This post is part of a 31 day series – "31 days to decorate your home on a budget."  You can read all the posts in this series here.

And if you don't want to miss a post you can subscribe by email, join me on facebook, or follow this blog in your reader.  Thanks for reading along!
When you are looking for cheap décor, don't forget to check your local dollar store.  There is an endless supply of decor, craft supplies, holiday supplies, and more at the Dollar Store.
Here are some things I have found or made from Dollar Store items:
Love these great vinyl sayings found at Dollar Tree.
I applied one of them to this platter…
and applied the other one to a $1.00 wood plaque I bought at a yard sale.
These hurricanes were made from Dollar store supplies
Here are some other crafts and home décor that I found online made from Dollar store items:
Candle holders (spray painted) and mirrors from Dollar Tree
Tiered Dessert stands (You have to click over and see what she made these from! 🙂
Little white wreath (made from powder puffs)
Another vinyl saying on a platter
Cheap orange pumpkins painted white
Sarah made this fall wreath from Dollar Store leaves
I need to look for these bowls next time I am there – LOVE this bowl on a stand!
Another candlestick idea
Love these mirrored boxes!  Another one to add to my list.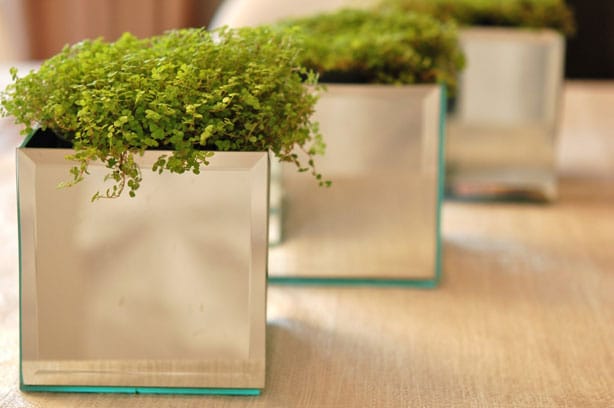 These table runners even came from the Dollar store (you have to see what these are made of too!) 
And I am envisioning – silver candlesticks, those mirrored boxes, the runners – the start to a gorgeous Christmas table!! 🙂  You just might be seeing something like this in my house for Christmas this year.  Gotta love getting inspired while writing my own blog post.
This cute flower basket all came from the Dollar store.
Another vinyl saying on a tray made into pretty wall art for the bedroom.
Some fun art for your kitchen – buy some cheap silverware at the dollar store
Love this framed pumpkin – so adorable!
and some more stands
Dollar tree bird and frame – so cute!
Allison made this fall wreath all from Dollar store supplies
So next time you are out, run by your local Dollar store and see what you can find!  My stores already have Christmas stuff out.
What is your favorite Dollar store item or craft?  Ever created anything using Dollar store items?
{cj}