This post is part of a series – "31 days of Pinterest: Pinned to Done"  You can read all the posts in this series here.  And to make sure you don't miss anything you can sign up to have every post sent to your email, follow me on facebook, or subscribe in your reader.
Today's project was inpired by this pin from 52 mantels.
And if you follow me on facebook you know that I really had to sacrifice and browse my Pinterest boards after dinner one night to find something that I had pinned to DO.  Then I had to whip up this recipe and I just had to taste it so I could tell you first hand if it was good.  Man, the pain I go through to write these posts.
Her recipe says you can basically use any kind of candy bar in it – she used Reese's Pieces and Butterfinger.  I had Reese's cups and M&M's on hand so that is what I used.
Yum!  And since I was going with the peanut butter and chocolate theme I added a big scoop of peanut butter to the batter too.  (And yes, I sampled the raw cookie dough
)
I bake all my cookies on stoneware – Pampered Chef stones are my favorite.  And I scoop out my cookie dough with an ice cream scoop – you know the one with the lever that you push to release the dough.  If you don't have one – get one!  Seriously makes many things in the kitchen so much easier.
Here's the recipe:

Candy Bar Cookies
Author:
Christina @ TheFrugalHomemaker.com
Prep time:
Cook time:
Total time:
Ingredients
2¼ cups flour
1 tsp. aking soda
1 tsp. salt
1 cup (2 stick) butter, softened
¾ cups white sugar
¾ cups packed brown sugar
1 tsp. vanilla
2 Eggs
1 cup semi-sweet chocolate chips
1 cup candy coated chocolate pieces (such as M&M's or Reese's Pieces)
2 regular sized candy bars, crushed
(Opt. ½ cup peanut butter if you are adding peanut butter candy)
Instructions
Preheat oven to 350 degrees.. Mix dry ingredients together in a bowl. In a separate bowl, beat butter, sugars and vanilla until creamy. Add eggs, one at a time. Slowly add in flour mixture and beat well. Add peanut butter now if you are adding peanut butter. Mix in crushed candy bar pieces, chocolate chips and candy coated chocolates by hand.
Drop by rounded tablespoon onto a a cookie sheet or stoneware and bake for 9-11 minutes until light brown!
And yes, these were good!  Really good!  I can't wait for some clearance Halloween candy so I can try them with Butterfingers or Snickers or something else.  The possibilities are endless!
And here is my favorite tip about cookie dough.  I just started doing this in the last few months and I am kicking myself for not doing it sooner.  Since there is only 2 of us, I hated preparing cookie dough that made 5 dozen cookies – we certainly didn't need to eat all of that!  And my husband and I LOVE, I mean LOVE straight from the oven, HOT cookies.
  So I mix up a batch of cookies and bake what we want right then.  Then I scoop all the rest of dough out into balls, onto a cookie sheet, and pop it in the freezer.
I let them sit until good and frozen (a few hours).  Then I dump them in a ziploc bag or freezer container and pop them back in the freezer.
When we want cookies, I take as many balls of dough out of the bag that I want and bake them.  And we have HOT, fresh, right out of the oven cookies again.
  Usually I don't even have to adjust the cooking time – but you may have to add 1-2 minutes.
And take that one step further (you are getting TONS of tips in today's post), I LOVE this idea that I pinned from Mel's Kitchen Café.    Want to give some homemade gifts this Christmas?  Whip up your favorite cookie dough, freeze it in balls, put it in a tin or box with the recipe attached and give it as a gift.  I may be stealing this idea for some Christmas gifts this Christmas.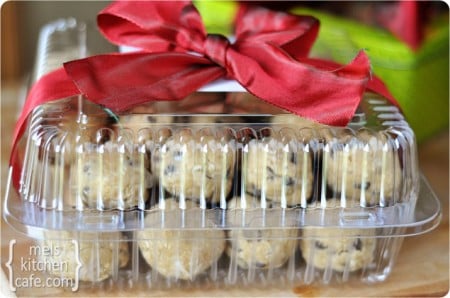 So what is YOUR favorite cookie recipe?  I actually have another one that I have found on Pinterest that has become our family's absolute favorite cookie.  I will have to share that later.
Do you freeze cookie dough?  Have you given frozen cookie dough as gifts before?
I am joining Nester from Nesting Place in writing a 31 days series in October.  You can see all the other hundreds of people writing a 31 days series here.

And I am excited to have 3 blogging friends join me in the insanity! Check out their series by clicking on the buttons below.

And my sister-in-law is joining along too!   Writing about their transition as they move across the country with four children. 
Christina