Christa from Brown Sugar Toast is back with another flower tutorial for our April Flowers series. I think you will LOVE this one! I know I do and am ready to make a new ring (or 10) tonight! Great gift idea too for graduation gifts, Mother's Day, or even teacher gifts for end of year. Take it away, Christa!
———–
For several months now, I've been loving those big flower rings you can buy on etsy…and in some cool retail stores. So I decided to try my hand at it.
Here's what I came up with: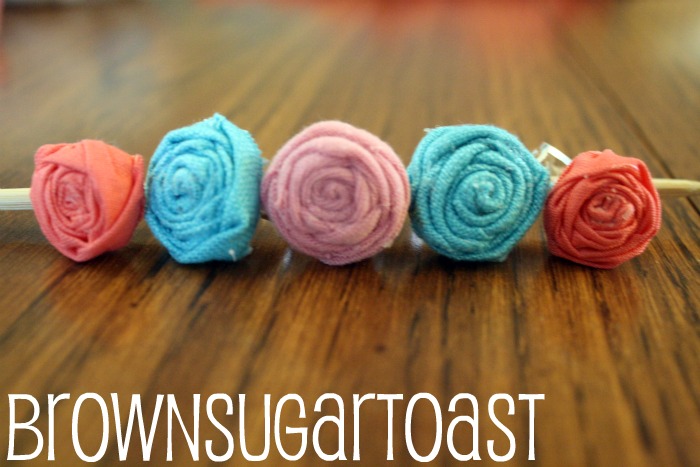 Me likey!
My original inspiration for making the flowers came from Danielle over at my sparkle. Thanks, Danielle!
These are super simple to make and they add so much fun to an outfit! Here's how to do it:
1. Get some fabric. Many types of fabric will work. The blue up there is linen. The light pink is a shirt that didn't fit me very well. Use what ya got!
2. Cut your fabric. I cut mine 1″ x 10″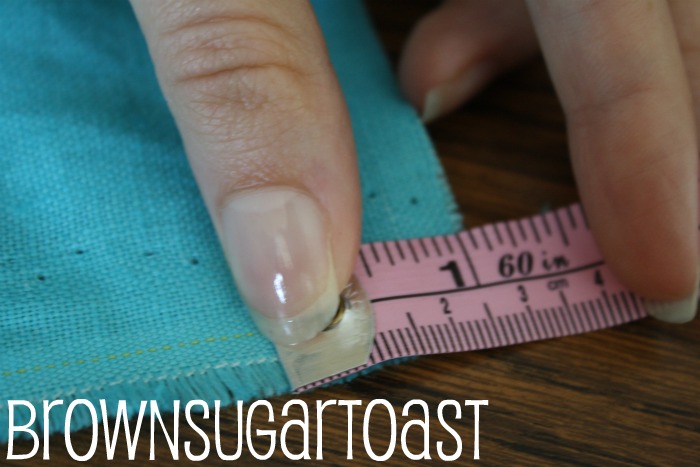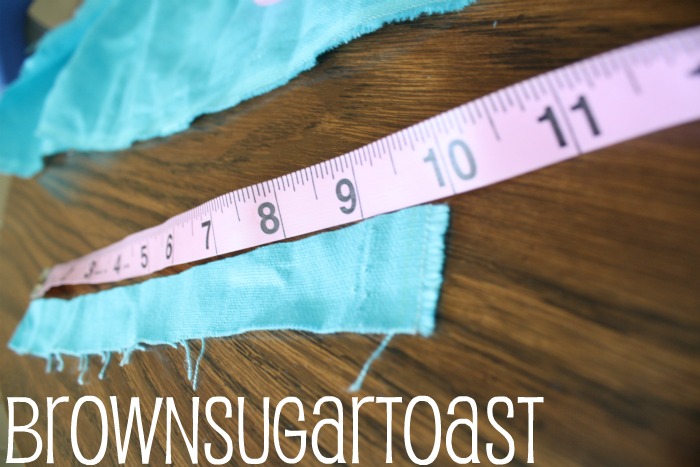 3. Get a snack while your hot glue gun is heating up. I'm currently loving this Jello Temptations stuff. I got the French Silk Pie flavor and it's yum. The white stuff on the top is kinda funky by itself, so I mix it in with the chocolate part and it's delish. I'm beginning to see a trend here. I have food around just about every time I'm crafting. That's why I take a pic of it…because it's sitting right there along with everything else I'm photographing so I figure…why not? just keepin' it real…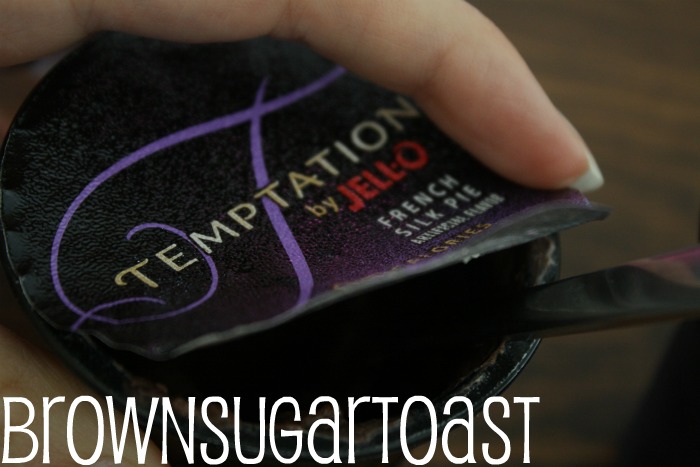 4. Use hot glue to glue and fold about 1″ of the fabric in half.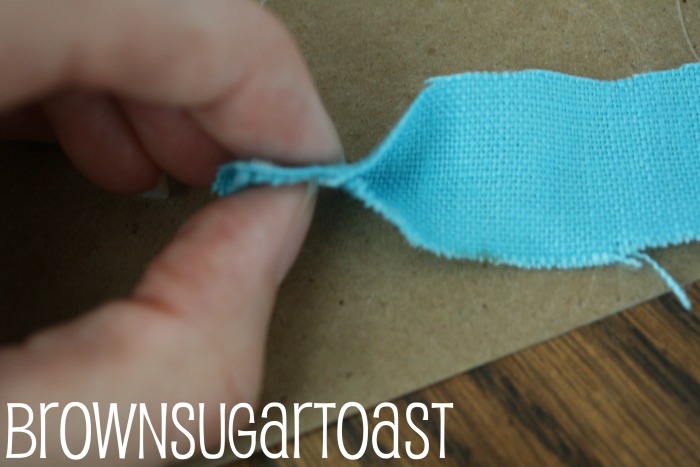 5. Now take that folded inch and glue and fold it in half again.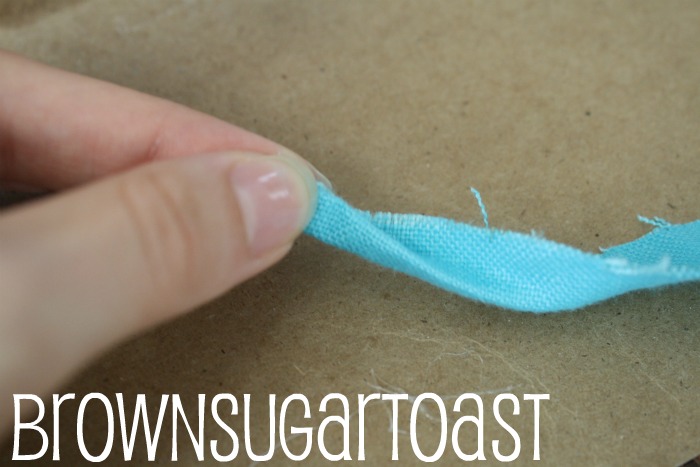 6. So now your fabric will look kinda like this: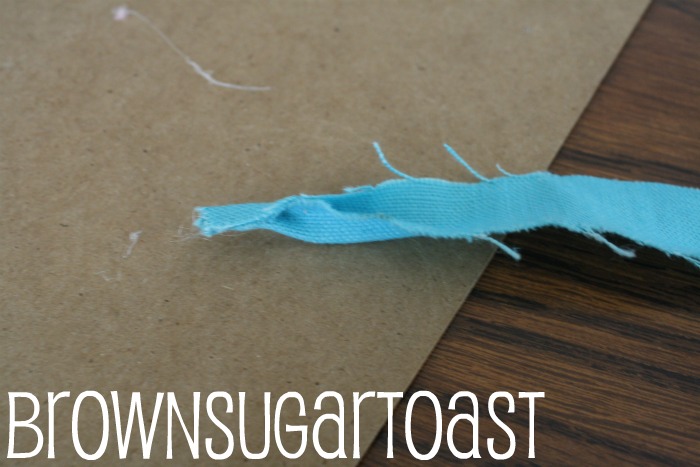 You want it to be like this so when you start gluing and rolling it into a flower, there's room and material to twist it so it looks more flower-y.
7. Glue and roll. You'll want to keep a tight roll when you first start out: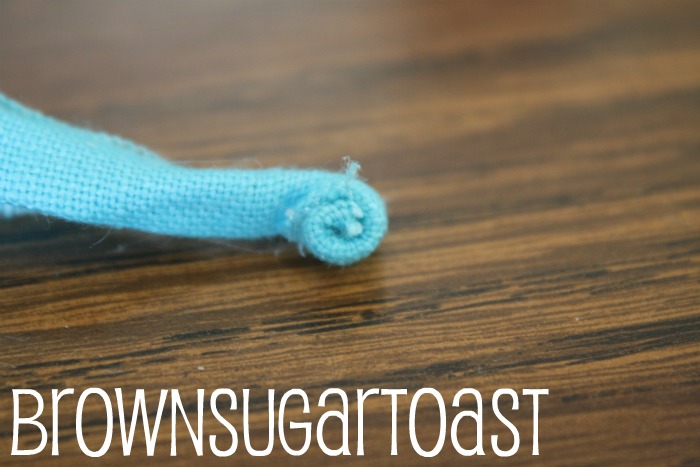 but as you continue, start twisting the fabric so it looks more like a flower instead of a cinnamon bun: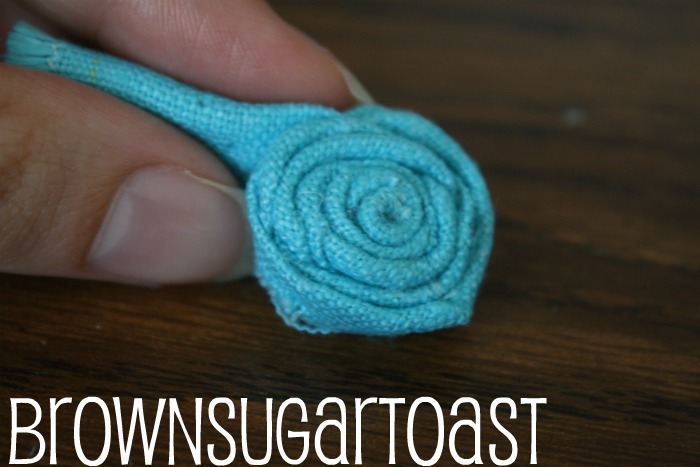 8. Leave a little tail when you get to the end of the fabric and cover up the bottom with some hot glue and the "tail."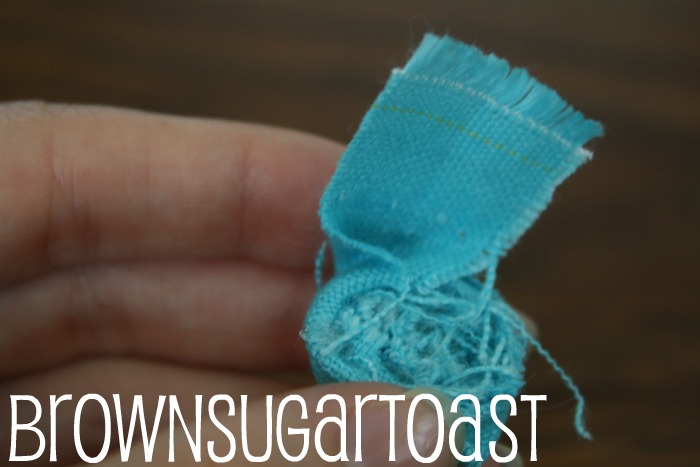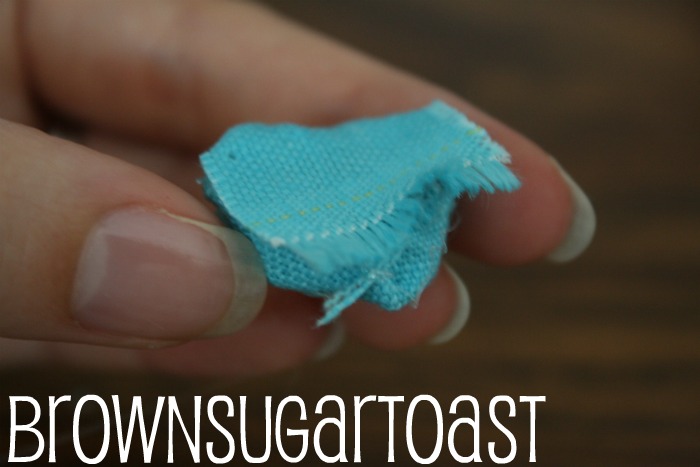 Cut off any excess fabric.
Get out your trusty ring base. I found mine at Michael's.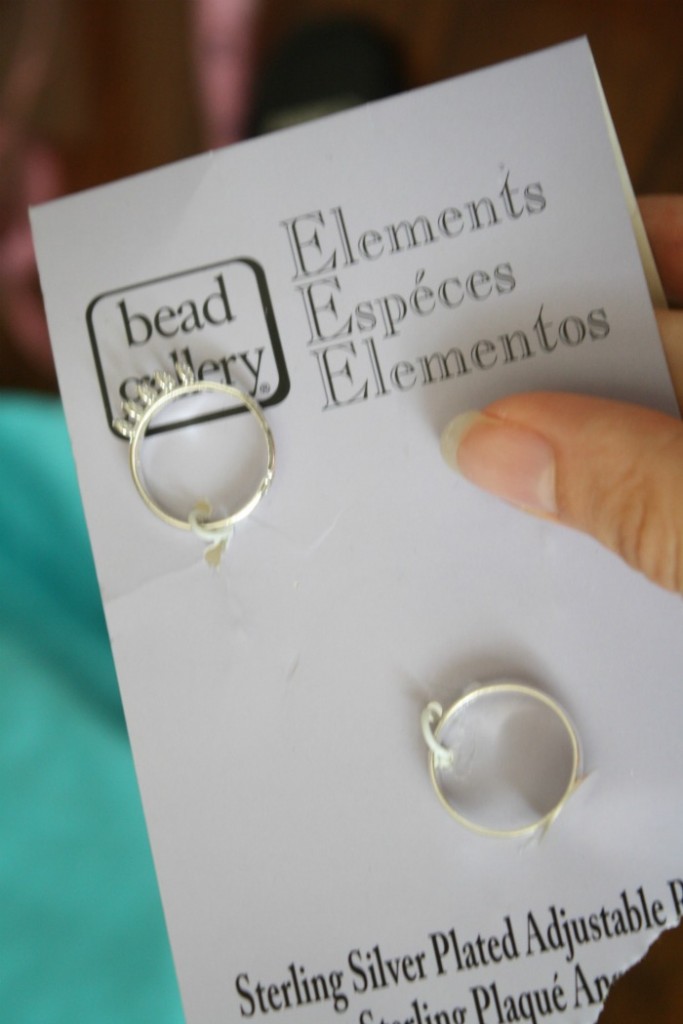 I don't know what to do with that funky one on the top. Anyone have any ideas? It says I can attach beads to it, but…I'm not sure how. Anyway, the one I used is on the bottom half and looked like this: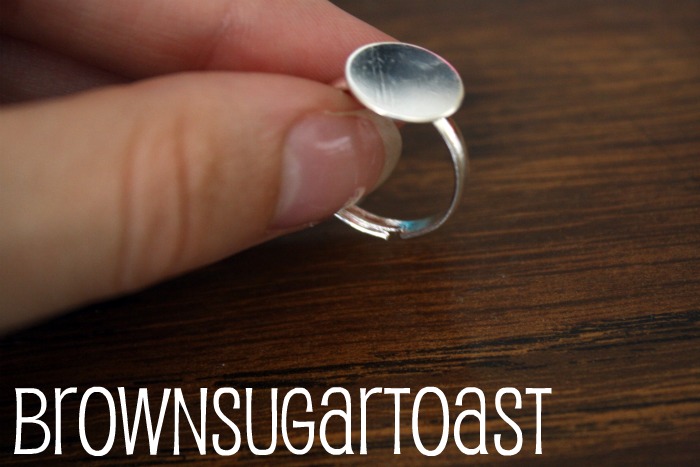 9. Stick some hot glue on that baby and hold the flower on tightly for about 10-20 seconds.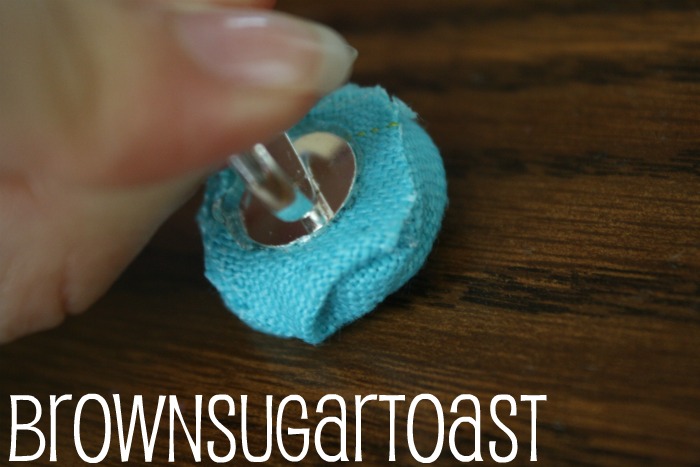 Now try it on and love it!!!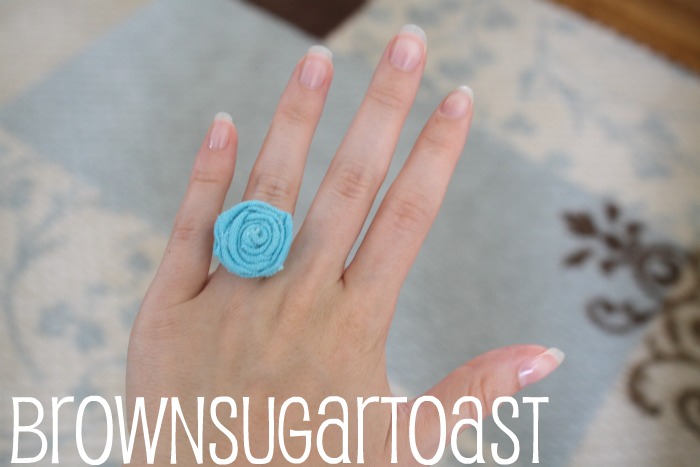 And, fancy that, it even matched what I was wearing at the moment so, of course, I had to take a picture: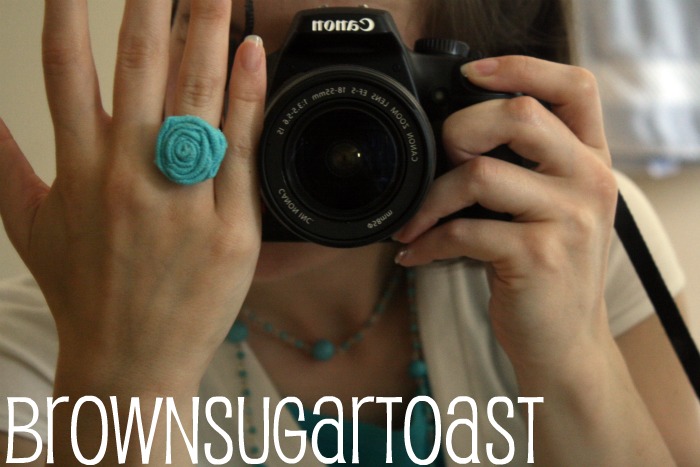 Do you love it? I do!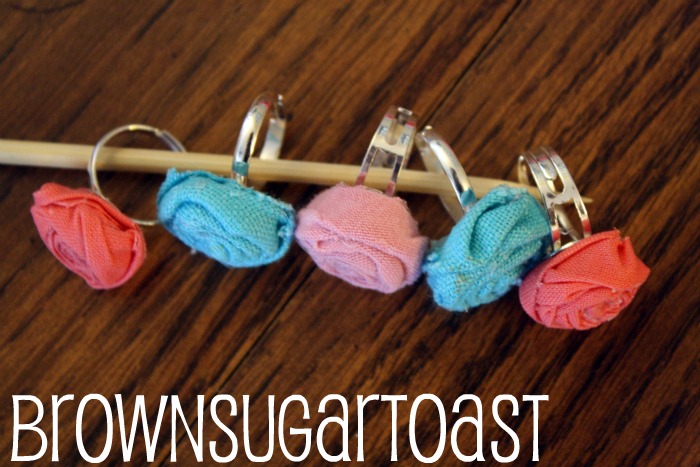 It adds just the right amount of punch to an outfit to keep it fresh & cute!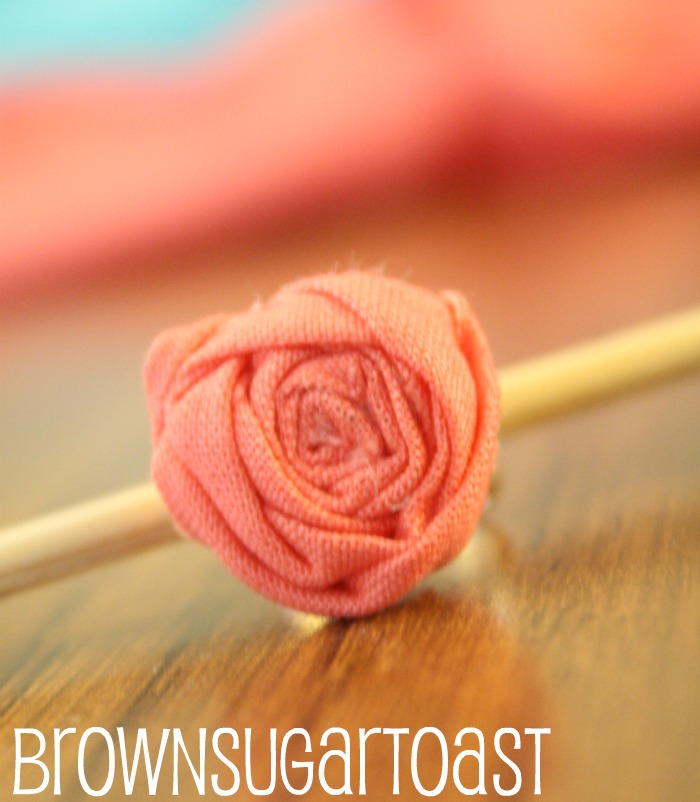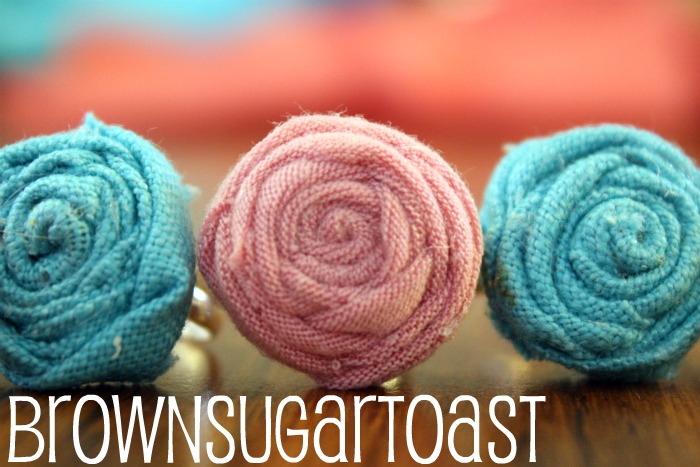 Thanks so much for having me, Christina!
———–
See, I told you! Aren't those gorgeous?! And easy to make too. Thanks, Christa!
And if you are wanting another flower idea check out this satin flower Christa made too. Again, you can make it out of fabric scraps and it is easy and cheap!
Tutorial for the satin flower can be found here.
If you have enjoyed Christa's flower posts, her felt flower tutorial last week and today's post, make sure to go give her a like on facebook so you can catch each and every one of her posts.
So confess, who has never made a rolled fabric flower?? I hadn't made one until a few months ago.
And second confession, who is already putting down the computer or phone to go scrounge up some fabric scraps to make some of these?? 🙂