This post is part of a series – "31 days of Pinterest: Pinned to Done"  You can read all the posts in this series here.  And to make sure you don't miss anything you can sign up to have every post sent to your email, follow me on facebook, or subscribe in your reader.
Today's project was inspired by this pin originally pinned from Recipe Girl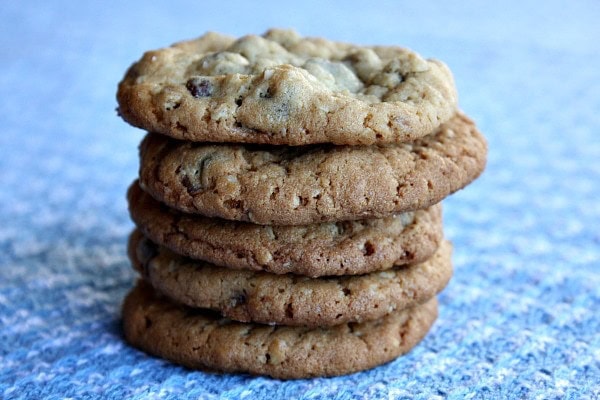 Truth be told, I have made these cookies quite a few times.  But I did find the recipe on Pinterest a while back, pinned it, then tried the recipe, and LOVED it!  This has become our families favorite chocolate chip/peanut butter cookie recipe.
So I wanted to share the recipe with you and thought this would be the perfect time.  I made some adaptions to it (her recipes calls for sea salt on top and I have never done that) so this is my version.

Peanut Butter Chocolate Chip Oatmeal Cookies
Author:
Christina @ TheFrugalHomemaker.com
Recipe type:
cookies, dessert
Prep time:
Cook time:
Total time:
Ingredients
1½ cups all-purpose flour
2 tsp. baking soda
½ tsp. salt
1 cup (2 sticks) unsalted butter, at room temperature
1 cup creamy peanut butter
1 cup packed light brown sugar
¾ cup granulated white sugar
2 large eggs
½ cup quick cooking oats (I like to use Old Fashioned Oats - but I love oatmeal cookies!) I also usually add more like 1 cup of oats
One 12-ounce package chocolate chips (I ALWAYS use semi-sweet)
Instructions
Preheat the oven to 350 degrees. I bake my cookies on stoneware, but if you don't spray your cookie sheet with cooking spray or line with parchment paper.
Mix dry ingredients (flour, baking soda and salt) together in a bowl. Set aside.
Mix the butter, peanut butter and sugars with an electric mixer until fluffy. Add the eggs one at a time until they are incorporated. Add the dry ingredients.
Stir in the oats and the chocolate chips by hand.
Drop the cookies in rounded tablespoonfuls onto the cookie sheet or stoneware. Bake 10 to 15 minutes, or until cookies are set and cooked through to the middle. I usually have to do 13-14 minutes, but check at 10 minutes and continue to bake for 1 minute intervals until they are light golden brown. The key to soft cookies is to underbake them by about a minute.
You can also scoop uncooked dough out in balls, place on a cookie sheet or plate, freeze for 1-2 hours until solid, and then store in a freezer safe container. Then when you want fresh baked cookies, pull out as many dough balls as you want and bake as directed above. You may have to add 1-2 minutes because they are frozen but my cooking time is usually exactly the same.
This recipe also freezes tremendously well.  You can read my tips on freezing unbaked cookie dough so you can have fresh, hot-from-the-oven cookies in minutes on my
Candy Bar Cookies post
. 
(Don't blame me if this recipe gets eaten in frozen dough form straight from the freezer.  I may have done that once… or twice.)
I hope you try them soon!
What is your favorite cookie recipe?
I am joining Nester from Nesting Place in writing a 31 days series in October.  You can see all the other hundreds of people writing a 31 days series here.

And I am excited to have 3 blogging friends join me in the insanity! Check out their series by clicking on the buttons below.

And my sister-in-law is joining along too!   Writing about their transition as they move across the country with four children.
Christina