Thrilled to partner with Walmart for this post but decor, pictures, and opinions are all mine.
It's finally officially spring and it's time to spruce up all those outdoor spaces to enjoy during the warm weather ahead! While everyone's outdoor space may look a little different, I think there are 6 simple steps you can do to create a cozy and welcoming outdoor space! No matter if it is a front porch, back porch, patio, deck, around a pool, sunroom… follow these 5 steps and you'll have a space you can't resist spending time in this spring!
You'll want to start with a clean space – so grab that blower or pressure washer and get all that winter grime gone. I pressure washed our front porch, removed anything left from winter decor, and was ready to start with a blank slate.
Start with some kind of outdoor furniture.
I have rocking chairs and 2 swings on our front porch, a table and chairs on our back porch, Adirondack chairs by our fire pit, and a lounge chair at our pool – pick what you like and what fits your space. I added this swing on our porch back in the fall to mirror the swing on the other side, but a 3 piece conversation set would work in a space like this too. Similar porch swing linked here.
Here are some beautiful outdoor furniture sets that I love!
You can shop all of those here:

2. Add a rug to define the space and make it cozy!
Don't skip this step! There are so many affordable outdoor rugs in many different designs and they truly make a huge difference! It instantly defines the space, creates a cozy feel, adds texture/color/interest. This rug is actually reversible with dark gray/black and white strips on one side and the plaid pattern on the other side. And it's so soft!
All of these rugs are $60 or less!
Shop them here:

3. Add a coffee table, side table, outdoor poof – something that will allow you to set a cup of coffee, prop your feet up, and make it feel like a living space.
I love our porch swings and go out there often throughout the day, but that spot on the swing lacked someplace to bring a drink, a book, lay your phone down and I thought adding a coffee table would be a great addition to the space. I found this beautiful chevron design acacia wood coffee table and it arrived at my door a few days later, was simple to assemble, and adds such a needed addition to this space. This spot has become a favorite spot to sit now!
Here's some other coffee table, side table, ottoman ideas for you:

4. Add outdoor cushions and pillows.
Make those spaces comfy! The goal is to make your outdoor spaces like an extension of your home so that you want to and enjoy spending time out there – so make it comfy! If your chairs or patio furniture could use cushions there are some great budget-friendly options here. But pillows can be added to any kind of seating option! It instantly makes the space not only more comfortable but cozy as well.
I have actually had these 2 pillows for 2 years so this will be the 3rd season they have been outside and they still look like new even though they get a little wet occasionally in rain. So don't be afraid to purchase some good quality outdoor pillows – they will last! White pillow linked here, black and white tassel pillow linked here.
I'll link some more of my favorite outdoor pillows here:

5. Add plants and seasonal flowers.
This is another step you don't want to skip – even outdoor spaces need some plants and greenery to dress them up. Plus I find that outdoor plants are even easier to take care of because they may already get watered from rain. I added some daisies that I will probably plant in the yard once the threat of frost is over and a palm tree as a fun addition this year. But ferns, potted flowers, succulents, really any kind of plant or flowers will work.
Look how much adding that palm plant adds to this space! And adding that resin wicker planter brings in more of the warmth of the wood coffee table to this space. That planter has legs you can add but you can also use it just like this too – best thing is it is weatherproof resin wicker so no rotting or ruining by the weather or water.
Also, don't forget to add smaller pots as a centerpiece for a table – I love to group 3 items together on a table to create varying height and interest.
I'll link these and more plant stands, pots, and planters below. I own many of these and love them!

6. Add a decorative element that will help to set the mood – lanterns, hanging lights, windchime, etc.
I really wanted to hang outdoor string lights on the porch but the outlet situation was going to be complicated so I opted to forgo them for now. But we do have string lights on our back porch that I LOVE!
But I did add a windchime in the corner and I have absolutely loved hearing it! Sometimes I can hear it just faintly inside and it draws me outside to come and sit and enjoy the spring breeze.
Lanterns and candles are another great option to add… so many great budget-friendly outdoor options I'll link below along with string lights and more

I picked this pretty citronella scented candle to help keep the mosquitoes away while we are out here plus the added candlelight is just pretty.
Now time to pour some coffee or some sweet tea and enjoy this space! I loved this mug I found at Walmart – perfect to enjoy morning coffee sitting on the porch swing.
I love all the textures and colors in this space!
We will be enjoying this space all spring and summer!
I hope this inspires you to create a welcoming, cozy outdoor space you can enjoy as well!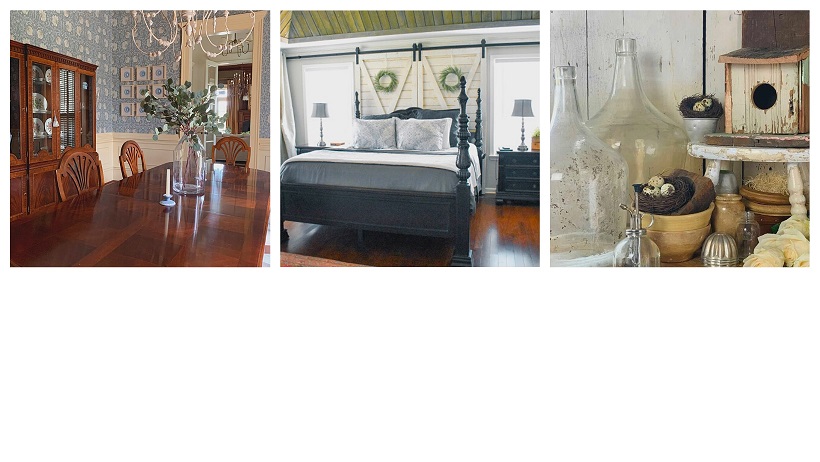 Robyn's Southern Nest/ Jenron Designs/ My Weathered Home
At Home in the Wildwood/ The Frugal Homemaker/ Southern Spangled