I didn't a chance to shop yard sales last weekend – we went white water rafting with our Sunday School class on Saturday instead. Even though I have been many times this time was the most adventurous! From starting out on the river in pouring down rain, which then made the river higher/faster so it was a FUN trip, to many people (including me!) falling out at the last rapid! Whew… fun times (but will be just as fun next year if I stay in the boat the whole trip 🙂
It was so pretty there!
So back to my frugal finds – I did stop in Value Village last week. I had a few things I needed to exchange so had a credit I needed to use. (They don't let you try on clothes but you are allowed to bring them back within 7 days to get store credit that you have to use that day.)
I found this really heavy glass container for $1.01
And a small glass canister for $1.01
And a turquoise pillow for 89¢! I have no idea why it was priced for 89¢ – most of their pillow are $1.99 and up. But I won't complain!
And my favorite find was this chunky knit chevron coral throw for $2.99! It washed up beautifully and I love how modern it is with the gradient colors and chevron design. Will be fun to use to add a pop of color to a room.
Now for your finds that you linked up last week! You had me inspired with all your fun finds and awesome deals!
Christa picked up this tray for 50¢ at yard sale. Can't wait to see what she does with it! (I would have bought it too for 50¢!)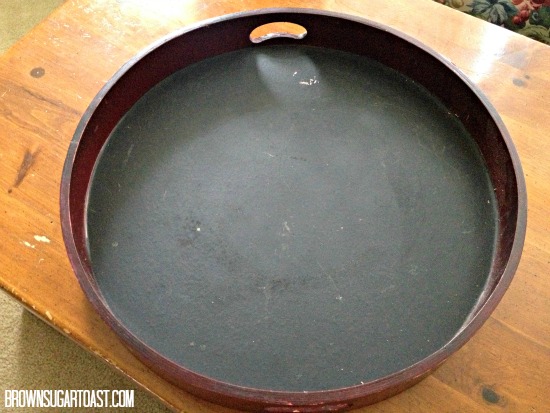 Marlin from Life Between Potato and Rice found this name brand purse at Goodwill for $4 plus a few other things.
Rachel from Architechture of a Mom picked up these old, broken wood boxes at a thrift store for $1.00.
And turned them into these super cute and functional charging stations!
Cari from It's a Lovely Day Tomorrow found all kind of goodies at Goodwill! A set of matching outdoor pillows for $8 – I would have snatched those up too.
I have bought several pillows at yard sales and thrift stores – just make sure to wash them in an extended hot water cycle and dry on high heat IMMEDIATELY after bringing them inside. I usually walk the bag right to the washer and throw them in.
She also found this huge candle stick with a $30 Hobby Lobby price sticker and paid $4 at the thrift store.
You all have me inspired to do some thrifting this weekend! Hope you can get out and do some too!
Then come back and link up your finds, yard sale steals, or thrifty makeovers below.
'); // ]]>