Hey!  Did you miss me this week?  Sorry, I have been a little absent.  I have been trying to do a lot of work behind the scenes here on the blog and also trying to catch up on some projects.  So I sort of took an unplanned break the first of this week.  Can't wait to share some new projects with you next week!
But one thing I haven't taken a break on is YARD SALING!
  This past weekend was gorgeous for shopping yard sales and my parking lot yard sale was PACKED!
I picked up these 2 items – the rattan décor ball was 50¢ and the milkglass dish was $1.00
I was a little bummed as I got to the end that there were tons of sellers and this was all I found.  Until I got to the next to last parking space and it was a man selling jewelry (not my jewelry man from last summer – sadly he is not selling there anymore
)
Everything was $1.00 and they were all brand new pieces.  I have really fallen in love the last year or so with jewelry like this and I love having different colors that I can mix and match with different outfits.  I don't buy jewelry unless I get it for $1-2 at yard sales, thrift stores, or Cato so it makes it a very reasonable accessory.
I loved that all the necklaces were SETS meaning they came with earrings too – great deal for $1.00!  I LOVE longer pieces like this for some outfits and I only have 2-3 longer necklaces mostly in white, black or silver so I was excited to pick up some colored ones!
Loved these chunky bracelets.
And these short necklaces too.  I specifically was looking for that peach color so was excited when I found a necklace and a bracelet to match and a bonus set of earrings.
So what did you find last week??  Ever bought jewelry at a yard sale?  Would love for you to link up your finds below.
Thought I might highlight some of the posts linked up last week!
Molly from Pennies 'n Grace found this $10 chair at Goodwill – nasty right??  But look what was under the slipcover!  And when I house crashed her a few weeks ago we found a clearance IKEA slipcover to go on top of it.  A chair like this (and the price!) are on my list too.
Christa from Brown Sugar Toast picked up this shirt in a "fill a bag for $3" sale at a yard sale.  It was a little big so she did a quick alteration to make it fit!  Can't beat her 30¢ shirt now!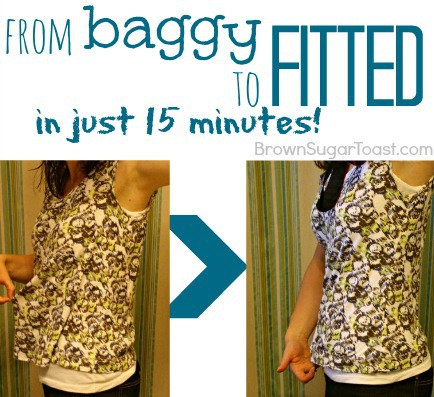 And Jae from Design OCD found this tray at Goodwill – but it wasn't gold when she bought it.  Read how she gold leafed it here.
Loving those posts linked up and more – you can see all of them here.
Come link up your yard sale, thrift store, flea market, or roadside rescue finds of the week.  Also welcome – posts sharing how you transformed or decorated with a yard sale, thrift store, or roadside find.

');