Hope you had a wonderful Thanksgiving! We had a good time with family and ate too much, of course. And woke up today to "the day after Thanksgiving" . . . when it seems the whole world switches into full steam ahead Christmas mode! I know I do! I got some Christmas shopping done in stores and online during the craziness of Black Friday (I happen to love it… it's become a tradition!) and am not in full-fledged Christmas decorating mode. I hope to have most of it done this weekend.
I am super excited to announce a series that will be happening here (and on some of my friends blogs) throughout the next 3 weeks. We will be sharing . . .
Homemade. I love it! There is nothing like homemade. That one word has become my decorating theme this year as I am busy crafting, sewing, and creating all kinds of "homemade" things for my Christmas décor this yea
Beginning on Monday, one of us will be sharing a homemade Christmas themed post with you. From decorations to ornaments, to gifts to recipes . . . all homemade projects you can create as well. I will make sure to share the link to their posts on facebook or here on the blog each day, Monday through Friday.
And you can even get a head start on checking out some homemade Christmas posts and the other bloggers who will be posting during the series. The pictures in the graphic above are all projects we have done.
Christa at Brown Sugar Toast created the velvet and fur trimmed Christmas tree skirt.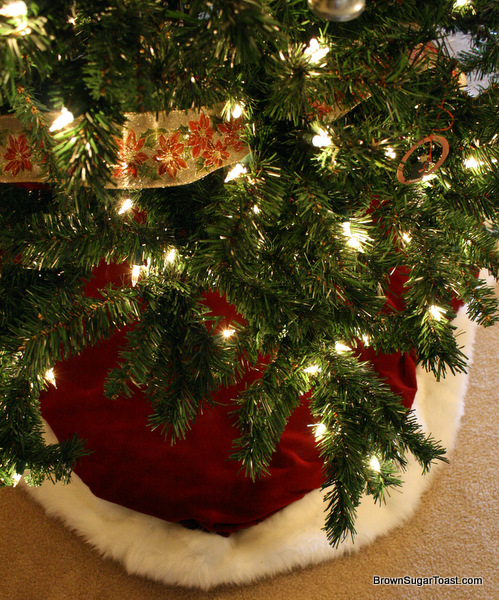 Heather at Thrifty Stories baked the delicious Vanilla Sour Cream Pound Cake
Laine at It's Just Laine created homemade cinnamon applesauce ornaments with her kids.
And I created the faux evergreen wreath for a friend and liked it so much I made myself one too!
I can't wait to share what I have been working on AND I already have a sneak peak into what they are doing too and I can't wait to see their projects too.
Oh, and I did a little makeover in the living room too this week so I will be sharing a few projects from that intermingled with all the Christmas posts next week.
Hope you will join us for A Homemade Christmas!
Are you a "homemade" person? What do you plan to make homemade this year – some gifts, décor, food, ornaments, or something else?
Check out the links to all the projects in this series here: