This post is part of a series – "31 days of Pinterest: Pinned to Done"  You can read all the posts in this series here.  And to make sure you don't miss anything you can sign up to have every post sent to your email, follow me on facebook, or subscribe in your reader.
Today's project was inspired by this post by Christa over at Brown Sugar  Toast.  She published that post in January and I have been debating/wanting to do this project since then.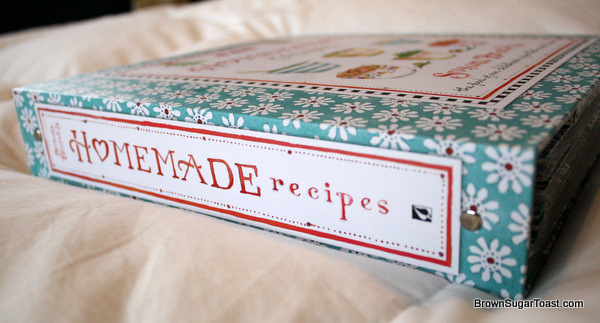 Love her cute little recipe book, but even more I loved (and needed!) the organization that she did with her recipes.  Go check hers out, I'll be right here when you get back…
So this is where I was…  Papers/recipes piled in my cookbook stand and more in other places.
I wrestled with this project.  Not in actually doing it, but deciding HOW and IF I should do it.  Our world is becoming more and more based on technology (which I love!) and I debated procrastinated somehow trying to have all my recipes in a digital format instead of paper.  I mean, goodness there is the wonderful Pinterest!  Couldn't I organize all my recipes in there??  The problem is I go on pinning sprees (must be when I am hungry at night) and pin every recipe I see.  Then my board is bulging with hundreds of recipes – some I have tried, some I never have tried – and I can't find the ones I am looking for.  When it comes time to make Traci's Taco Soup or Laine's Pumpkin Cream Cheese muffins (recipes online), I have to find the pin on my board, go to the blog post, then drag my laptop into the kitchen and hope I don't spill food on it while I am trying to follow the recipe.  Or print the recipe (but then where to put it?)  I wondered if I had a tablet and if there was an app that would organize things and there may be.  (Chime in the comments if you use a great app to organize your recipes.)
But then what about the recipes that aren't online?  The one that your friend gives you written out cause you asked for her recipe, the recipe card that I picked up at the grocery store that our family loves, the secret family recipe that doesn't even exist online.  How do I organize all of these??
So for now, I am going old school.  Good ole paper, notebook, and printed out recipes.  I will still use Pinterest for recipes, but it will be to store recipes I want to try.  Then when I have tried a recipe and our family loves it, I will print it and add it to my family recipe book, and move the pin to a "Recipes we Love" board so I still have the link just in case I want to share it with you
I picked up a note book and 2 packs of sheet protectors.  The tab dividers I already had,  but ended up not using them.
Then I started going through this pile of paper.  Ones I wanted to keep got stuck in page protectors and then filed in categories.
At first I was going to use those tab dividers, but they didn't stick out past the papers in the page protectors.
So these Post-it tabs that I had on hand (gotten free with coupons a long time ago), came to the rescue.
I just wrote on them with a small sharpie and stuck them on the first page protector in that category.  Perfect!
All of this went in the trash.  (I think I had Laine's pumpkin muffins printed like 3 times because I could never find the previous paper – oh, I needed this organization!)
And I created a cute cover and even a label for the end.
Love the chevron print – you can custom design it on this site!  You can make birthday invitations, thank you cards, or note cards in any color and customize your text too!  I just created my chevron print as a birthday invitation, saved it, then opened it in Picmonkey.  Then I put a  white box over the existing words on the bottom and added my own text on top.  Definitely going to be using their chevron designer again!
The front of our book actually has our last name on it (like "Jones Family Recipes")– I just erased that part so I could share it here.
I found some recipes I forgot about while I was doing this and I am super excited to use my new book, so I think dinner time may be a little more fun around here for a while.
Thanks Christa for the motivation to get this done!  If you are struggling with finding blessings in the everyday things, head over and check out her series – 31 days of Blessings in Disguise – it has been a blessing to me!
How do you organize your recipes?  Online, on paper, in a notebook, or a recipe box, or a pile of paper like mine??
I am joining Nester from Nesting Place in writing a 31 days series in October.  You can see all the other hundreds of people writing a 31 days series here.

And I am excited to have 3 blogging friends join me in the insanity! Check out their series by clicking on the buttons below.

And my sister-in-law is joining along too!   Writing about their transition as they move across the country with four children.
Christina
Linking up at: Love of Family & Home Winter "Organize It" Linky party