I am so excited to FINALLY share my fall mantel with you!
For some reason this was the hardest mantel for me to put together. In fact what you are seeing is take 4 or 5 (I lost count!). I think I was trying to force myself not use orange at the beginning, then I was doing all darker neutrals, then I was trying too hard! But I finally changed some things up and stepped back and it was FINALLY perfect!
Myra at My Blessed Life posted her fall mantel a week or so ago and I LOVED the extra touches she put into the whole mantel display. (Please click here to visit her blog if you wish to pin her mantel.)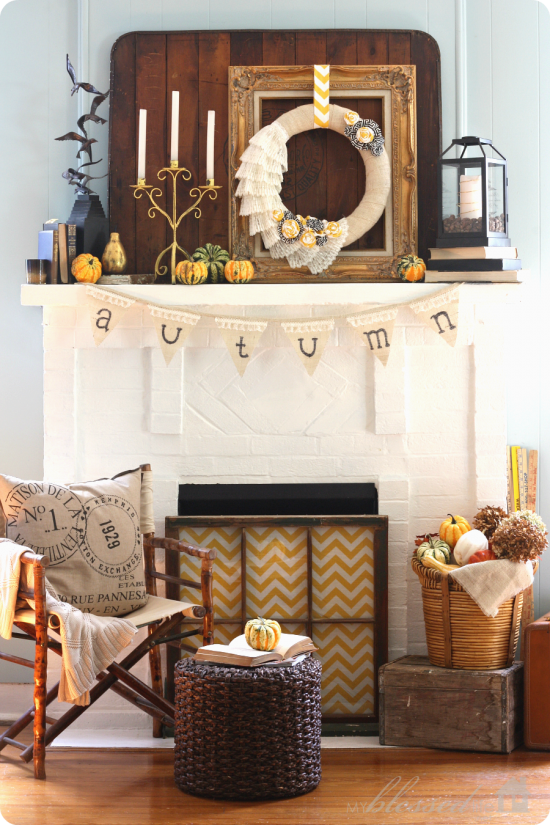 So
So I was super inspired and decided to try something different this year by decorating the entire mantel – in front of the fireplace and on the floor too! And I LOVE it! The floor part was easy, it was the mantel that was giving me a hard time.
And once again, I strive to decorate my mantel with things I already have on hand, pulling things from all around the house, and not buying anything or much of anything.
The only things I bought specifically for this mantel were the mums and the pumpkins (secret: I used these same white pumpkins on my fall table which is dismantled for now, and the big pumpkin was on my fall front porch – need to pick up 1 more pumpkin.)
The window is from my stash and I like the backdrop that it gives to this display. The little white bench was something I picked up for free at an estate sale. It was hidden in a back shed and was very rough looking so they just gave it to me. I painted it white and I am going to enjoy using it in front of my fireplace. The pumpkins in the tin bucket (yard sale find) are faux but the white one is real. Lantern from Ikea a few years ago and the rusted weathervane was a flea market find.
I always have these baskets on my hearth to hold magazines, and they fit the the fall colors/theme, so I just left them. A friend gave me the shutter and I painted it white, the stool was a Goodwill find, and the wreath I found this weekend at a yard sale and added some fall leaves from my stash to it.
I wanted to base this entire mantel on a reclaimed wood piece from an old pallet! It didn't turn out exactly like I imagined but I LOVE it anyways! I might post a tutorial on it later but basically I ripped apart an old pallet and built a barn door type piece (the cross slats are on the back – I liked this side better for this display.)
I made the FALL bunting/banner from burlap, stencils, and some brown paint (tutorial here from last years smaller "Fall" bunting). Candlestick – recent yard sale find, decorative plate – bought last year, mirrored window – yard sale find, wreath – I made, "Count your Blessings" sign – from Target dollar spot, white pitcher – secondhand gift from a friend, faux wheat stems – Wal-mart, owl – Kohl's $2 purchase, mums – bought at Wal-mart.
I love how it finally came together! And I am glad I don't have to do another mantel for until Christmas cause this one was a lot of work!
A vintage, natural, collected mantel! Perfect for fall!
Have you decorated your mantel for fall? Would love to see it! If you want to see some other gorgeous mantels, check out the Fall mantel party at Centsational Girl. I am headed over to link mine up.
I am almost done with my fall decorating – finishing up a wreath today that I hope to share tomorrow.
Linking up to: Rhoda's Thrifty Treasure party