I have been a bit inspired by my friend Renee over at Living, Laughing and Loving to start looking for more clothes while I am thrifting.  Have you seen her Fashion Friday posts?  I think in her last post 80% of her clothes and shoes came from Goodwill and they were super cute!!  Inspiring, I tell you!
   Except for the jeans, this entire outfit including the shoes came from GW Fashion  (aka. Goodwill!)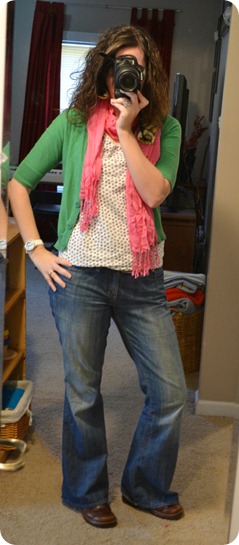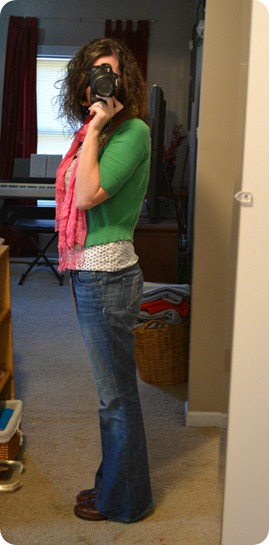 (Photo courtesy of Living, Laughing, and Loving)
I get discouraged with the prices ($4.94 for a t-shirt?) but I am trying to be more diligent in looking anyways.
Here is my Goodwill trip:
Scarf – Goodwill $1.81  (I actually braved the bins of used/secondhand undergarments – aackkk! to find this scarf.)  Why oh why doesn't Goodwill hang their scarfs up like Value Village??  (Remind me to pack some gloves in my "thrift store kit,"  I already have baby wipes and hand sanitizer in the car for a quick cleanup when I get done)
Dress – 1/2 price color at Goodwill so $2.95
Wreath – also 1/2 price color so $0.49
Tic Tac Toe game – 1/2 price too – $0.75
And half-price day at Value Village was last week too.  And for some reason, everyone in our town and the next town over decided to come out for it.  The lines were insane!!   I looked around for a bit, found some things but not enough to justify waiting in line for 45 minutes, and stashed it where I could find it.  I ran all the rest of my errands and stopped back by on my way home.  The lines were gone and my finds were still where I left them – yay!
set of 4 red napkins – 1/2 off $0.49 each so $0.25 each = $0.98/4
set of 4 green napkins – 1/2 off $0.49 each so $0.25 each = $0.98/4
full white sheet – 1/2 off $2.99 = $1.49 (I have BIG plans for this – can't wait to show you! It is going to be the repurposing project of the year! )
skirt – 1/2 off $4.29 = $2.64
There's my finds for week!  Would love to see what you found?!
Shopped any yard sales yet?  I saw the first one yesterday at a home in our neighborhood – yay!!!
{cj}