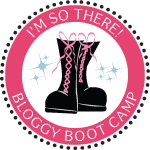 I had the privilege to attend Bloggy Boot Camp put on by the SITS girls this past weekend in Atlanta.  (and no, there weren't any sit ups or drill sergeants involved, thank goodness!
)  I always felt a little envious when I would read about these bloggers going to fun blogging conferences and longed to go one myself.  Until I found out Bloggy Boot Camp was coming to Atlanta!  I could go and not incur travel expenses, it was a one day conference, and I read some really good reviews from other bloggers – I jumped on the chance to buy my own ticket!
I wasn't quite sure to what to expect, what to wear, what to bring, etc.  I felt a little overdressed as most people were wearing jeans, and I wasn't sure if I should bring my laptop for fear of having to lug it around all day – but I was very glad I did.  It made jumping on twitter (yes, apparently tweeting about the conference DURING the conference is the thing to do!) and taking notes much easier!  I didn't know anyone, so I was actually glad that we had assigned tables for the first few sessions and I got a chance to meet many new people!
The sessions included:
Authentic Branding
How to avoid or overcome Bloggy Burnout
How to get your readers to talk back
Business of blogging
Design matters
The art of the "about me" page
Marketing yourself in today's crowded space
I learned something from EACH session!  But probably my favorite speaker and session was Melissa from MomComm and "How to get your readers to talk back."  Before this conference, I had never seen Melissa's blog and I am in love!  She has such helpful, down-to-earth suggestions and solutions for the everyday blogger.   Her session and learning about her site made my day!  I am getting ready to work through her ebook – DIY Blog Critique.  I already have been browsing through it  – it is simple, easy to understand, and I can't wait to start doing some things on my blog and design!
Here are the top 10 things I learned:
1.  I need figure out what my "brand" is.  Define who I am as a blogger and what I am wanting to accomplish on my blog.  Sort of like a missions statement for me and my business.
2.  Bloggy Burnout – I wrestle with this often, sometimes even once a week – balancing a regular job, our home, church responsibilities, blogging, and an occasional cake – I get burned out (and worn out ) often!  Stacey's presentation was funny and very helpful.  The key thing I came away with is – I need to start doing some things to AVOID bloggy burnout, not just deal with it when it gets here.   Make tough choices, learn to say no, use my time wisely, and make time for rest and play – don't just work ALL THE TIME (guilty
)  Loved this quote – "Taking time to live will only inspire your work."
3. Find a "tribe" – a group of friends that also blog that you can relate with – people who get what I do!    People I can bounce ideas off, who understand my frustrations and discouragements, people who can offer advice, etc.  I already had several blogging friends and I came away with a new appreciation for their support and friendship!   I even started a blogging "group" when I got home so we could share ideas, success, and failures easily.  So thankful for my "tribe!"  (Just Laine,  Brown Sugar Toast,  Living, Laughing, and Loving, and more!)
4.  Loved Melissa of MomComm's presentation (How to Get Readers to talk Back),  Many tips on wording your posts, facebook comments and tweets to get people to talk back, how to ask good questions, etc.  I have already enjoying putting some of her ideas to work on facebook and in my posts.  And I am working on this – "To truly engage… treat others how you want to be treated. If you want people to engage, ENGAGE yourself, If you want people to comment, comment on other blogs yourself!"
5.  Which brings to me twitter!  I have a hard time with twitter – I have a basic understanding of how it works, I am just not sure that I like or enjoy the way it works?  It just doesn't seem to interest me.  BUT, I heard this again and again that day… In blogging world – networking with brands and future advertisers, and connecting with other bloggers and your readers– twitter is a MUST!  So I tweeted some during the conference, and have been trying to do a better job on keeping up with it and tweeting since I got back.  I am enjoying it a little more but the verdict is still out on whether I will ever really "get it" or enjoy it for that matter!
6. The business of blogging always interests me.  Having separate personal and business finances, make a name for my business, how to approach a brand (yep, twitter again!)  When I am writing about a product or store, include their name in my post – then tag them on facebook or on twitter with my post.  They are watching!
7. Blog design – oh so much work to do here! 
  I wish I could go back to school and become a graphic designer – much cheaper/less "pounding on the computer" way to get a professional blog design.  Some of things I need to work on – making my design cross promote (same design on facebook, blog, twitter so you know where to find me), work on creating a footer, fix some things in my sidebar, work on more navigation, and so much more!
8. Vamp up my "about" page.  Explain WHO I am, not just my ROLE. There is a difference.  Yes, I am a wife (my role) but that doesn't define everything about me.
9.  Make goals!  Where do I want to be in 2013?  Find my end goal, then figure out in baby steps how I am going to get there.
10.  Build relationships!  (With bloggers, with brands/advertisers, with my readers)  And know my value – Don't work for free!
I came home inspired and overwhelmed with information!  I still have things that I learned that I want to incorporate in my life and on my blog.  And more blogs I want to read, and bloggers I want to get to know…
  But I am going to take it slow and avoid getting burnt out. 🙂
If you ever get a chance to go, I highly recommend Bloggy Boot Camp!  You won't regret it!
You can get more information about Bloggy Boot Camp here.
Now I am off to "tweet!"  Come join me!
{cj}